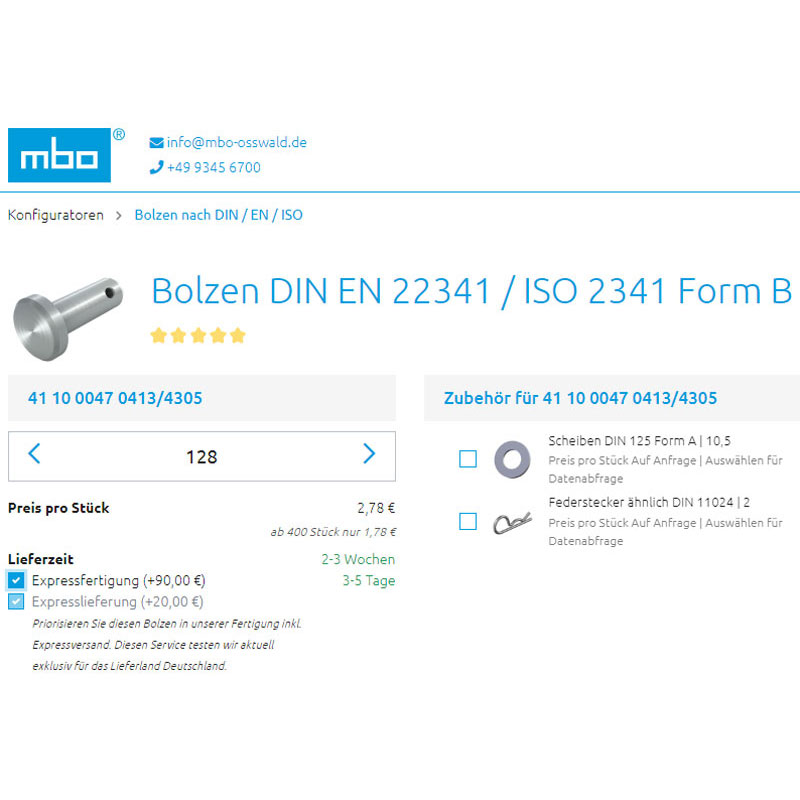 Express manufacture of standardised bolts
2022/5/22
Our online bolt configurators now make it possible to order express-manufactured parts together with the associated accessories
The mbo Osswald configurators represent the industry standard for custom bolts, bolts with head, threaded bolts and grooved bolts together with the required accessories.
The various configurators have proved their value in recent years thanks to their extreme ease of use, which saves users considerable time and effort.
But the linking technology expert mbo Osswald now wants to go even further!
How would it be if users could specify the delivery times for the configured bolts themselves? That is where the most recent tool kicks in.
The new bolt configurators offering the option of express manufacture and express delivery were launched to coincide with the Hannover Messe 2022. Nothing has changed in terms of the simple, intuitive use of the configurators. If the parameters permit it, the configurator automatically proposes the "Express Manufacture" option.
The user then decides whether they want to pay a surcharge to send the order directly to the machine. This greatly reduces the delivery time, from 2-3 weeks to 3-5 days. All the process steps then run automatically in the background and the contract manufacturer interrupts the scheduled machine assignments to permit this. This ensures that the bolts can be manufactured without delay.
For the manufacturer, this innovation represents a further step on the journey towards end-to-end transparency and offers users optimised freedom of action at all times.
This service, which is an option featured in the bolt configurators, is available with immediate effect for all customers in Germany. It will be extended to other countries in the future.
mbo Osswald, a company headquartered in Kuelsheim-Steinbach in the Main-Tauber district of the German state of Baden-Württemberg, has a workforce of approximately 70 employees and manufactures linking elements such as bolts, clevises, clevis joints, angle joints, rod ends, special parts and retainers and markets these worldwide. On request from customers, the company's employees also produce precision turned parts or complete assemblies.
mbo – Systematic solutions for linking technology