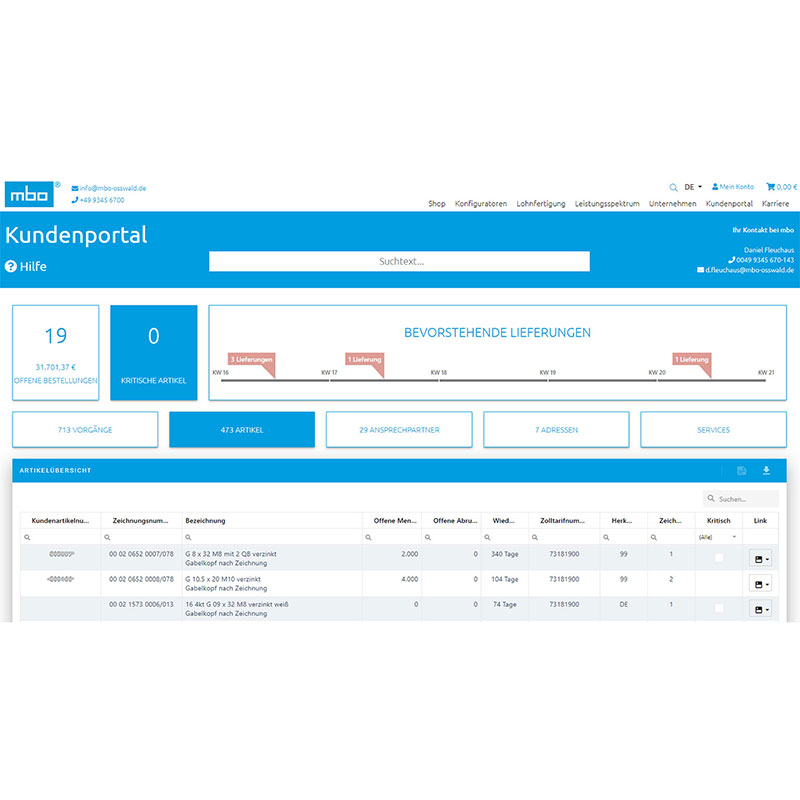 Metal processing | Linking technology #newcreated
2023/4/12
Customer portal offers individual benefits – Exclusive: Express manufacturing of drawing parts
What happens when production know-how, industry experience, top quality and service are combined with customer-specific information and enriched by customer requirements? The result is a platform with customer-specific information and benefits for enhanced transparency and freedom of action designed to boost value-added.
Motivated by the wishes of its customers, the provider mbo Osswald has further extended its online portal and created individual customer services that bring exclusive benefits.
Exclusive: Express manufacturing of drawing parts!
With immediate effect, users of the customer portal are able to order previously supplied drawing parts via express manufacturing. Drawing parts produced individually for the customer in question can be priced online on the basis of the required quantity and ordered. If rapid delivery is required, it is now possible for the first time to trigger an express manufacturing order and send the parts directly for production on the machine.
Contractual documents / REACH
Documents such as order confirmations, delivery notes, invoices and offers can be displayed whenever required and are available for download and storage.
What is more, REACH certification can be issued for all supplied parts at any time.
Order tracking
Order tracking permits seamless follow-up for all ordered articles – live and whenever required!
And the really clever thing: as early as the raw materials planning stage, the individual steps are displayed clearly and traceably and any applicable cancellation period is shown.
Prices and delivery times
Users of the customer portal benefit from transparent pricing even for large quantities and can also take advantage of their existing customer-specific prices online. Delivery times and stock levels are displayed. Exclusive delivery time benefits are available for contract manufacturing orders – custom drawing parts with the possibility of express manufacturing.
Configurators
Extended quantity ranges for all configurators are available to users of the customer portal. This ensures complete transparency and freedom of action even for larger quantities.
Generate your offers yourself
You need an offer directly and want to be able to place the corresponding order later on. The customer portal allows you to do exactly that! Users can generate offers themselves at any time and then order the corresponding articles on the basis of these later on.
Product details and 3D models
Of course, all the basic information, such as product details or 3D models, is available unrestrictedly to users of the customer portal.
Usability, intuitive operation and the integration of 50 years of experience in the field of linking technology were our guiding lights during the extension of the online platform, which has been designed to make the lives of all innovators and purchasers a little easier and further increase value added.
However, if any functionality is missing, the producer would be delighted to receive your direct feedback!
About mbo Osswald
mbo Osswald is a leading supplier of linking technology. At the Kuelsheim-Steinbach site, 70 employees manufacture more than 12,000 standard parts and are specialists in the production of individual drawing parts to meet specific customer requirements.
Portfolio:
Standard parts: Clevises, clevis joints, bolts, retainers, angle joints, ball sockets, ball studs, axial joints, rod ends, pivoting bearings, knuckle eyes, cardan joints, machine elements
Precision turned parts / drawing parts / job order production / product development
Webshop / online configurators / 3D CAD models

mbo - Systematic solutions for linking technology